T
here has been a large turnout of voters at Ado-Ekiti, the Ekiti state capital, as they trooped out in great numbers to the polling units.
In many parts of Ado-Ekiti, hundreds of voters were seen at the polling units as early as 7:00 am.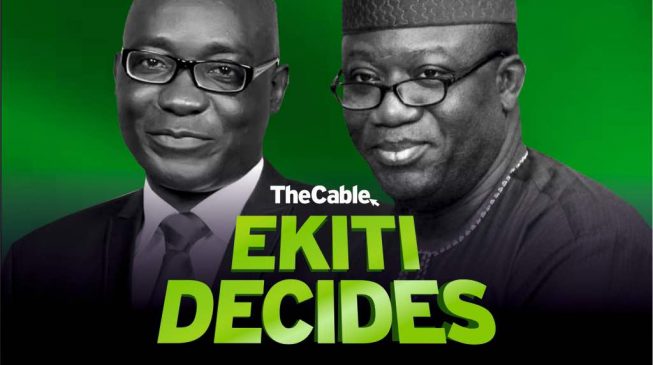 Voters including the elderly, pregnant women, nursing mothers, youths among others were at the poll forming a long queue and ready to exercise their civic duties.
Accreditation and voting have since commenced.
In Isan-Ekiti (Ekiti North Senatorial District) Independent National Electoral Commission (INEC) officials arrived as early as past 7:00 am and accreditation and voting commenced at 8:00 am.
There is, however, a heavy presence of security agents at the polling booths.
See photos below…
"I don't really know why he's not here to vote, this is very unlike the Fayose we know," one of the voters tells TheCable
All accredited voters at Fayose's unit have voted but the governor is yet to come.
At last, Olusola's votes
Electoral observers
Solders arrest these suspects at Awogbemi ward, Oye LG
Few people left in queue at Fayose's unit but the governor is yet to come out to cast his vote
Heavy military presence in Oye LGA
Heavy military presence at Oye LG
130 years Comfort Ibiyemi, Fayemi's aunt, came to vote but unfortunately, her card is missing
On a second trial, the card refuses to work at Olusola's polling unit. Angry, he however said he expect that something would be done to fix it.