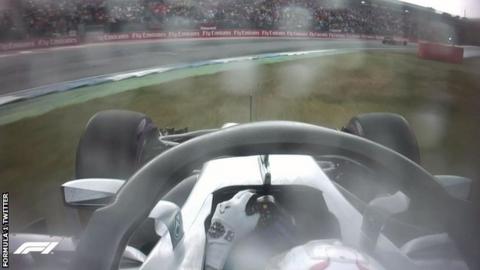 Hamilton takes a trip across the grass as he aborts his pit entry
Lewis Hamilton has kept his victory in the German Grand Prix after an investigation into a driving offence.
The Mercedes driver aborted a decision to pit to change tyres under a safety car and cut across the grass to rejoin the track and take the lead.
F1 rules dictate that "crossing the line separating the pit entry and the track by a car entering the pit lane is prohibited".
But Hamilton, 33, escaped with just a reprimand.
Stewards took into account mitigating factors in a chaotic part of the race during wet weather.
The race stewards said that although Hamilton had clearly broken the rules on entering the pits, a reprimand was the "appropriate penalty". Other possible punishments included a five- or 10-second penalty.
The ruling took into account that the driver and team admitted their mistake; that the offence was during a safety car period, when the speed of cars on track is controlled; and that the manoeuvre did not endanger any other drivers and was "executed in a safe way".
His win gave him a 17-point championship lead over rival Sebastian Vettel.
The race was thrown into disarray by late rain and Mercedes were not immune from the chaos, as evidenced by a breathless radio exchange when the safety car was deployed following Vettel's race-ending crash.
Hamilton was told to pit, then told the team Kimi Raikkonen was pitting in front of him and was told to stay out, which became "in, in, in, in!" as he aborted and cut across the grass to rejoin the track.
During the European Grand Prix in Azerbaijan in June 2016, Raikkonen was given a five-second penalty for starting to go into the pits and then not doing so.