French President Emmanuel Macron's office has begun dismissal proceedings against a senior security adviser who is under investigation for beating up a protester at a May Day demonstration.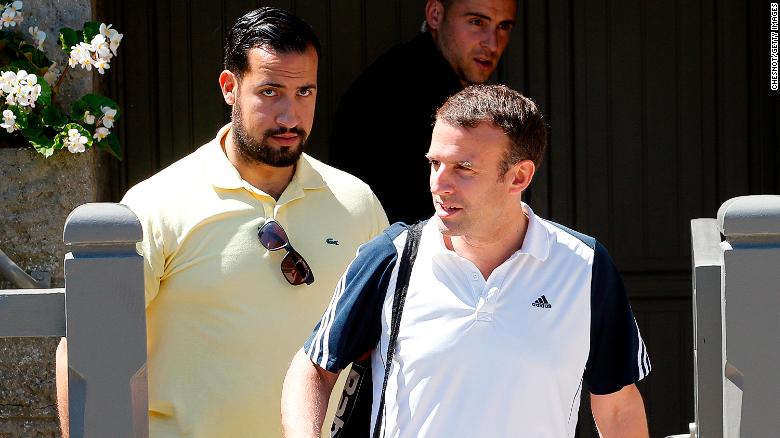 Paris (CNN)
Video footage from the protest showed Alexandre Benalla lifting a protester off the ground by his neck and covering the man's mouth before striking him over the head with his fist.
"The presidency decided to start Alexandre Benalla's dismissal procedure after new facts that could constitute misdemeanor were brought to the president's attention," the Élysée Palace said in a statement Friday.
Bruno Badre, a spokesman for the Paris prosecutor, confirmed Benalla was currently being questioned by police as part of the assault inquiry.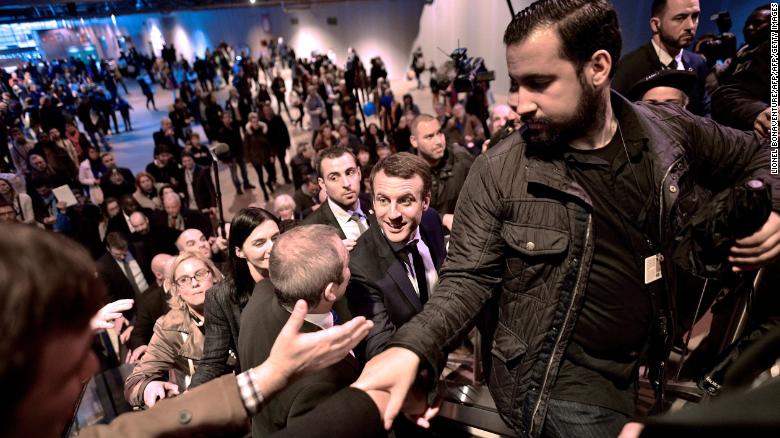 Bernalla had already been suspended for 15 days by the Élysée Palace before its latest step was announced.
Government minister Julien Denormandie called Benalla's behavior "unacceptable" on Thursday.
Three Paris police officers have been suspended on suspicion of unauthorized communication of surveillance footage to a third party, the French Ministry of Interior said in a statement Friday. The ministry declined to specify who the third party was.
Interior Minister Gérard Collomb "strongly condemns these actions which, if they are confirmed, constitute a serious breach of ethics and undermine the exemplary image which must, in all circumstances, characterize the action of the national police," the statement said.
'Very aggressive'
Benalla had been invited to observe the demonstrations on May 1 in Paris alongside France's riot police.
Activist Taha Bouhafs, who was demonstrating at the protest, captured the incident on his phone.
In an interview with France's SUD Radio on Thursday, Bouhafs said the protest, which was organized in the capital's Latin Quarter, went from a "convivial" atmosphere to a violent one after riot police used tear gas on the crowd and began hitting people with batons.
Bouhafs said he had seen Benalla at various moments throughout the protest wearing a police armband and assumed he was a policeman or a member of special security forces. "I never thought he was someone who worked with Emmanuel Macron," Bouhafs said.
When the 21-year-old saw Benalla grab a woman by the neck and attack an already "neutralized" male protester, he decided to confront him on camera.
"He was very aggressive. There was no reason for this violence. The man was not dangerous, he was on the ground and begging him to stop. Everyone around him, me included, asked Alexandre Benalla to stop. I said, 'Stop! Stop!' Then he stopped and I got closer and filmed his face and said, 'Look at this face. He did this.' And then he fled."
A second video has subsequently come to light in which Benalla can be seen forcibly moving the young woman towards a wall and trying to force her to sit down, before returning to the young man. In the original video he was not in frame at this point.
More claims made against Benalla
Other reports have also emerged of previous instances in which Benalla appeared to be heavy-handed.
Political TV channel Public Sénat on Thursday published a video showing Benalla manhandling one of its journalists at a rally in Caen during Macron's 2017 presidential election campaign. Benalla also tore the journalist's press accreditation from him, the channel said.
Public Sénat said it had reported the incident to Macron's 'En Marche!' campaign team but got no response.
Meanwhile, Buzzfeed France published a video that it said showed Benalla removing a communist activist from the 2016 event where Macron declared his candidacy, in the Paris suburb of Bobigny. Buzzfeed quoted the activist as saying Benalla hit him in the head moments after the video ends.
The furor comes as polling suggests Macron's popularity has ebbed since his election.