TO describe Etinosa Idemudia as a talented actor is an understatement, she has proven herself to be a brilliant since making her full debut in 2016, thereby winning two major prestigious awards and as a content provider, Etinosa has provided content for leading Nigerian telecommunications company MTN on their MTN Comedy Plus platform, she also serves as a brand ambassador for MUVng.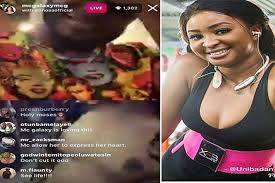 After Speed Darlington, who many have later accepted to be one funniest guy on Instagram, the other funny person you'll watch displaying absolutely act of absurdity is Nigerian actress, Etinosa Idemudia. In fact, unlike Speed Darlington, Etinosa has moved from being that loving funny girl to an irritant.
Etinosa had on March 16 went completely naked on MC Galaxy live Instagram.
After the drama, she said all she prays for is forgiveness from God. She, however, expressed shock at how her video went out in public despite the fact it was supposed to be a private video.
In her words, ""I don't really know, I can't say anything about the person who sent the video to Instablog or how it got there. Those things are private things. Your weakness should be covered but unfortunately for me, I happened to be out there. The people who are judging at the moment, I don't really blame you guys, it's fine because I put myself in the spot and I take full responsibility for the incident.
I should have been more responsible, I should have been more careful with alcohol, with expressing myself and with whatever it is I want to do. All I have to do now is to ask God for forgiveness and move on,"
she said.
According to her, she has been able to move on from the drama surrounding the video and hold her head up high.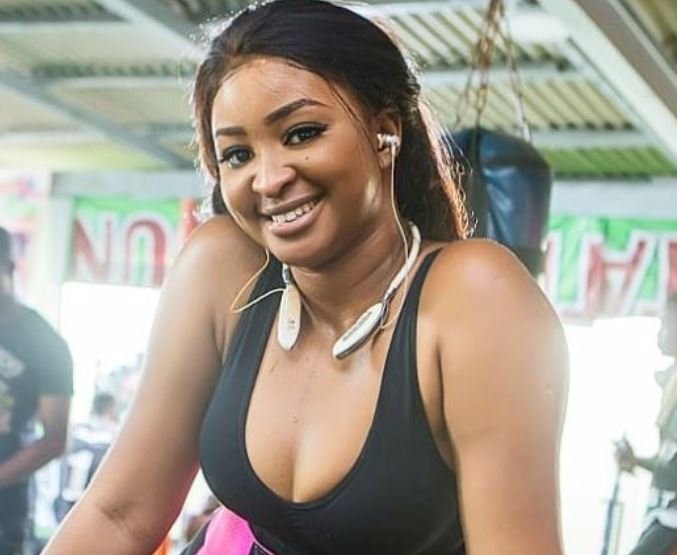 "The absence of wounds only shows a child who has never been in battle -As casual as this sounds "I cannot come and kill myself" it is one of the strongest tools of motivation against suicide and other regret related reactions. -Even a righteous man shall fall several times and rise up again.
Again in October, a photo of the Nollywood actress exposing her naked butt while sitting on the toilet also went viral.
The photo was shared on Instagram by singer, Skiibii and Etinosa commented on it, writing – "Expensive shit".
Again, on November 30, 2019, Etinosa uses Bible as ashtray as she smokes on Live Instagram video to the view of her followers.
In a post she made on Instagram, the actress said nobody can blame her mother for the way she chooses to live her life, and she also mentioned that the part of the Bible that talks about training a child is a scam.
She was specific about Proverbs 22:6, which reads: Train up a child in the way he should go: and when he is old, he will not depart from it..
In her post, Etinosa mentioned that her mother trained her and she is still training her, but she is obviously derailing from the training.
She wrote:
Proverbs 22:6 says
Train up a child when he is young and when he is old, he will not depart from it. Nobody can blame my mother, she trained and trained and still training. And am still departing.
Etinosa wants to be like the Kardashians forgetting she's not in the same clime with the Kardashians.
While Kylie Jenner became the Youngest Self-Made Billionaire Ever at 21 in March 2019 from her cosmetic products, Etinosa in the same months was preparing to get herself drunk and go naked for the world to see her big tummy.
Etinosa may have gone live to win the N50,000 promised by MC Galazy, because Etinosa took to the gram days the artiste announced N50,000 reward girls to go naked.
Etinosa, the biggest clout chaser on Instagram is gradually fading away as new blood such as Apaokagi Adedoyin Maryam popularly known as Taaooma, Justin Chukwudi Ugonna (Justin Ug), Miss Ezeani, Ivie Anita making waves on the internet, getting deals without showing their breasts or buttock.
Thin Tall Tony had said when he was asked why he wasn't getting an endorsement from brands, "I think maybe I slandered myself or give myself a bad name when I was in the Big Brother House and nobody really wants to wrap their arms around anything negative. I understand that's human feeling. This is a great lesson for Etinosa to learn.